How to Choose the Right Study Desk?
---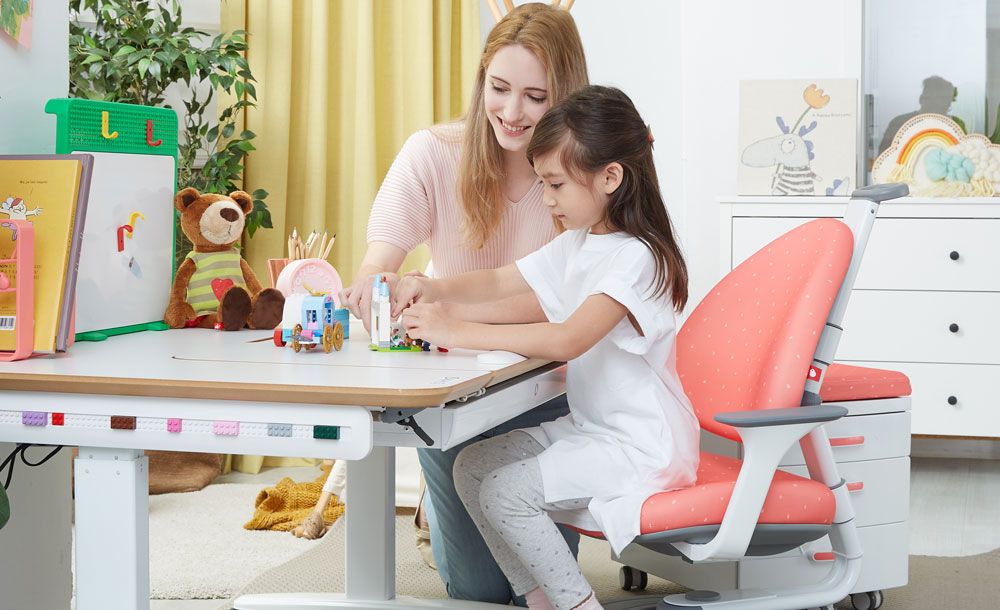 When it comes to a child's bedroom, a study desk should be at the top of the priority list. Whether it is for studying, painting, using a computer, or doing handicrafts, kids spend considerable time sitting behind a study desk. Children nowadays sit at desks longer than they used to, constantly even longer than office workers: in the mornings at school and afternoons at home to do homework, read, do handicrafts, and play on tablets/computers. This phenomenon leads to more and more children complaining about health problems, back pain, and muscle tension. As a result, they have headaches and difficulties concentrating over a long period. Hence, providing a comfortable environment is necessary for children's learning efficiency and long-term health. Basic guidelines for children's ergonomic sitting position can be seen here.
Studies show that children grow up to 3 inches a year, which indicates that furniture should be designed with children's ergonomics and growth development. However, having a height adjustment option on a kid's study desk or study chair alone does not satisfy growing children's needs. As your kids grow and homework is no longer child's play, it is best to invest in a sturdy, ergonomically designed study desk.
Therefore, it is important to ensure the healthy development of your kids' physical and mental abilities by purchasing ergonomically designed products.
Before you make your purchase, here are some tips to follow:
Five Things to Consider When Choosing an Ergonomically Designed Desk
Adjustability
Kids' development years are crucial. If their postures are not right from the start, it may lead to long-term health issues, such as back pain, swollen or stiff joints, discomfort in the shoulders, vision problems, hunchback…etc. It should be noted that all these posture-related issues could be prevented with the right ergonomic desk and chair.
What makes an ergonomic kid study desk? As kids grow, the height of their study desks should be adjusted accordingly. While it would be nearly impossible to frequently replace a kid's study desk, a study desk fitted with adjustable height and tilt angle would be the best option. For reading, typing on laptops, writing… etc., different desk angles should be provided for children for ergonomic purposes. With adjustable heights and angles, kids will be able to spend hours behind study desks without discomfort.
For instance, Kid2Youth's new "A7 electric height adjustable desk" with three-stage columns, and a height-adjustable range from 56~107cm (22.04~42.12 inches). With this range, the study desk satisfies kids of all study ages. Additionally, school-age children would be able to move around the study desk from sitting to standing. Appropriate ergonomics is not sitting down for an entire day, you are encouraged to move constantly.
For every hour spent sitting by the desk, you must stand for at least 15 to 30 minutes. A standing desk can guide users to healthy habits. The healthiest ergonomic workstation allows you to adjust, change, and move positions whenever necessary freely.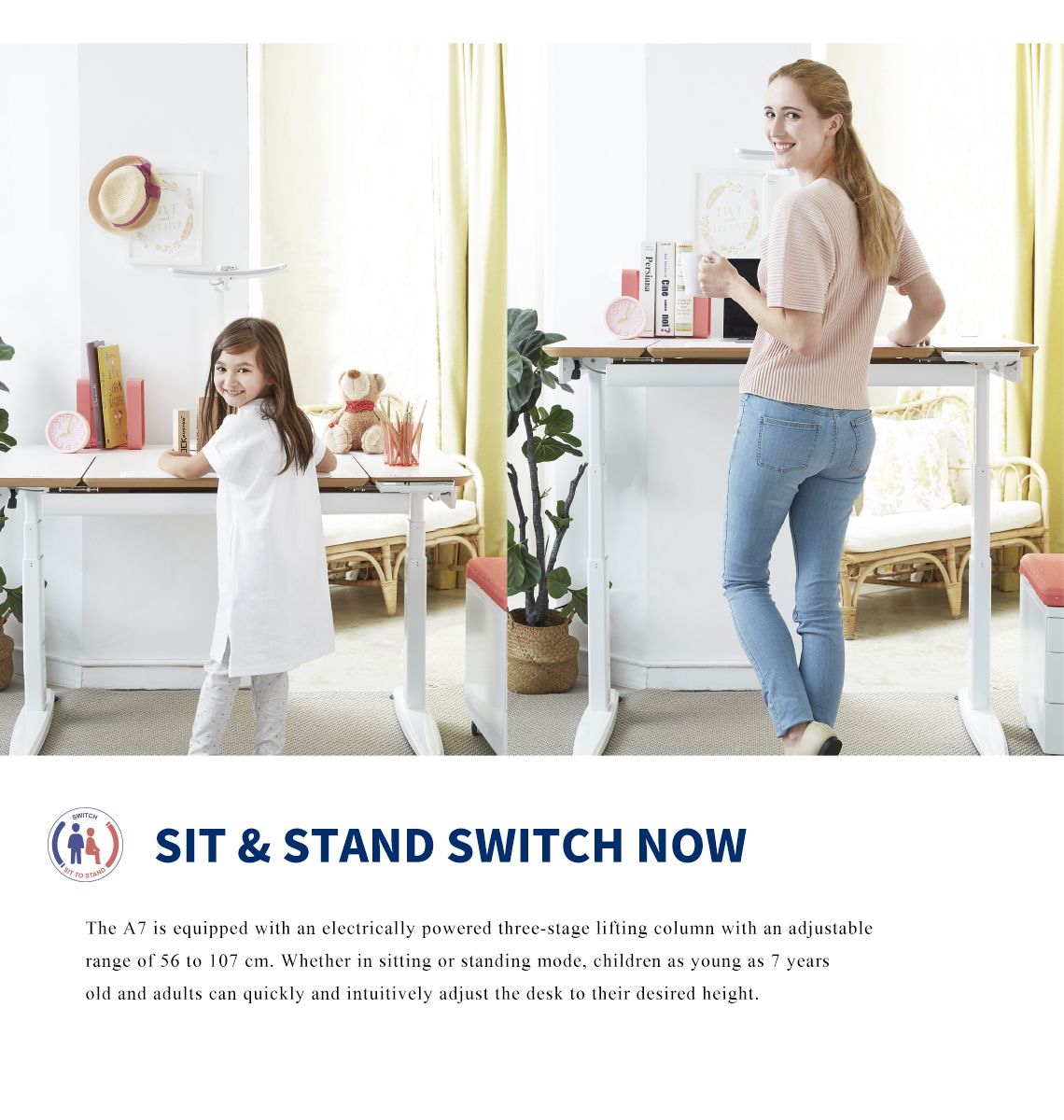 1. Functionality
With advanced technology as well as the COVID-19 pandemic, kids nowadays not only use their study desks for reading and drawing. Attending virtual classes with tablets and laptops has become a norm globally. The pandemic has not only created the so-called WFH (Work from Home) mode but also formed a different class environment for students of all ages. Functionality is important for study desks.
Functional and ergonomic study desks should be fitted with electronic devices that allow users to adjust automatically to their needs with a snap of a finger.

The G series dynamic desk from Kid2Youth is built with an intelligent learning mode that can fit any school-age and body shape. G series can instantly calculate and offer the best desk height and tilt angle under any learning and working modes. It is also built with 6 settings of memory; you can switch users with a one-touch button. The ergonomic study desk offers you and your family the best experiences.
2. Capacity
Books, stationery, laptops, and tablets can add up to considerable space and weight. Not only are bookshelves needed, but spaces for stationery and laptops also ought to be considered for school-age kids.
For a capable ergonomic study desk, the G series desk from Kid2Youth is equipped with a large drawer with a storage container for stationery. Kids can properly learn about space management and logic, and applying logic and storage management daily, allows children to think ahead and remain healthy with the ergonomic study desk.

It is safe to say that every parent would like to ensure their children not to be hurt by any means. To ensure the safety of children, it would be crucial to have steady study desks that can bear weight. G series desk can lift to 70kg, and it provides a strong and stable workstation not only for kids but the whole family.

3. Material
Investing in an ergonomic study desk is most likely a long-term decision. After the purchase is made, it is expected that the study desk should last for years of usage. That is why the materials applied for the product must be built with top quality. Certain materials such as plastic and vinyl should not be used so children's health would not be affected.
Children are also known to be active and tend to run around carelessly. Hence, the surface of the study desk is best to be scratch-resistant and equipped with rounded corners to prevent potential injuries.

For example, the G series desk not only fits ergonomic standards for a kid's study desk but is also made of environmental boards imported from Australia and New Zealand; SGS Verified and fitted the F☆☆☆☆ standard. Having accreditation from international organizations should be considered one of the best options on the market for potential buyers.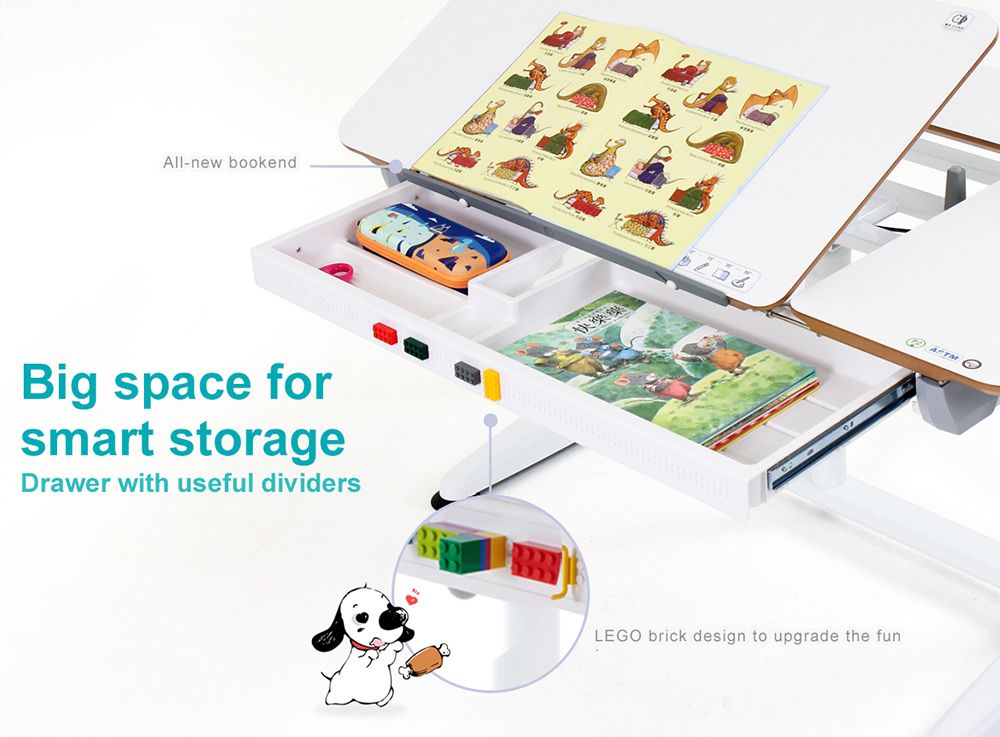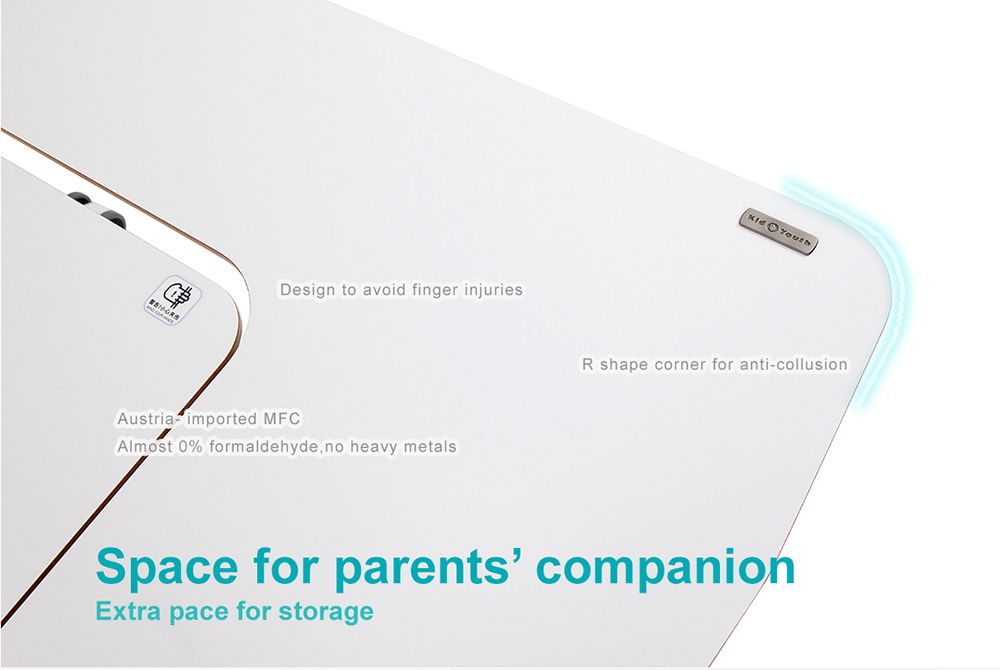 4. Warranty
Buyer's remorse often occurs if the after-sale service is not adequate. Regardless of the material quality, product-related issues are inevitable. Thus, before making a purchase, customers are likely to compare product warranties and after-sale customer services when it comes to similar products within a close price range. Some companies might offer a 1-year limited warranty, whereas some might offer warranties that last for more than 5 years. When consumers feel confident that their needs will be taken care of after the sale, they will have more confidence and are more likely to become returning buyers with pleasant experiences.


Conclusion
To summarize how to choose the right study desk for your kids, there are five aspects to be taken into consideration: 1. Adjustability 2. Functionality 3. Capacity 4. Material 5. Warranty. The growing period for children is crucial in terms of their healthy development as well as learning outcomes. It is essential to provide an environment with an ergonomic study desk and chair to accompany kids' study age.
In addition to kids' ergonomic learning desks and chairs, parents should provide guidance to avoid potential health issues. The most suitable ergonomic study desk for your kids should be able to adjust height and tilt angles automatically. It should also include practical functions and useable capacity.
Along with quality materials and a lengthy warranty, the G series desk manufactured by Kid2Youth checks all the boxes for an ideal kid's ergonomic study desk. Furthermore, with outstanding durability and quality, it can also be used for adults, which makes it a solid purchase.




Kid2Youth Ergonomic Desks:
E6-120S Electric Ergonomic desk(width:120cm)
G2C+XXS ergonomic desk(collocated with Germany Stabilus gas-lift, width:80cm)
G2C+XS ergonomic desk(collocated with Germany Stabilus gas-lift, width:100cm)
G6C+XS ergonomic desk(collocated with Germany Stabilus gas-lift, width:100cm)
G6C+S ergonomic desk(collocated with Germany Stabilus gas-lift, width:120cm)
G6-120S ergonomic desk(collocated with dual gas-lift, width:120cm)
M2+XXS ergonomic desk (Manual height adjustable desk, width: 80cm)
M6+XS ergonomic desk(Manual height adjustable desk, width: 100cm)
M6+S ergonomic desk(Manual height adjustable desk, width: 120cm)
Kid2Youth Ergonomic Chairs:
BABO ergonomic chair
DUO gas-lift ergonomic chair
EGO-C ergonomic chair
EGO ergonomic chair

---